Volleyball Beach will open Winter Digs II registration on Wednesday, December 7th, 2022 at 9 am!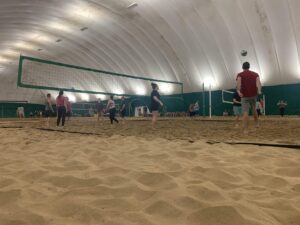 The Winter Digs II season will be kicking off Tuesday, January 3rd, 2023 in the Beach's pressurized dome, where cold weather doesn't slow our players down. In the dome, the temperature sits at a balmy 72°, so you can leave the winter coats and snow boots at the door and enjoy some time with your toes in the sand. And don't worry, the Beachside Bar & Grill will still be serving up all your favorite food and drinks!
Mark your calendar, and set your alarm because once registration opens up, these spots go fast! With fewer courts available during Winter Digs II than non-dome seasons, teams need to be quick to get the time slot they want.
Reminders:
This league runs for 9 to 10 weeks. If holidays or poor weather conditions cancel one of your nights, we will do our best to reschedule it before the league ends.
We offer three different play levels for our winter season, A – Power, B – Intermediate, and C – Recreational. Choosing the right league for your skill level is the key to having a great time while playing at the Beach. Click here to review the league divisions.
All players must be at least 18 years old to join a league.
Connect With Other Players!
If your current team is short a player or if you are looking to join a team, check out Volleyball Beach's Find a Player page!
See you in the dome for Winter Digs II!