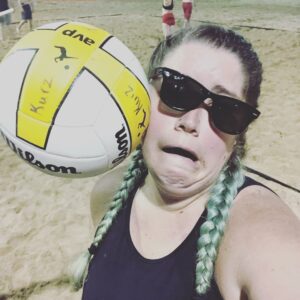 If you have ever played in a tournament at Volleyball Beach, you more than likely have met or played with Event Coordinator Hillary Shipman. Whether she's out playing volleyball with friends, or organizing all of the incredible tournaments hosted at Volleyball Beach, Hillary is a regular to say the least! Get to know Hillary below!
How long have you been playing Volleyball?
I grew up playing club volleyball in Columbia where I am from, is where I first started playing sand volleyball. When I first moved to KC I thought that volleyball would be a great way to meet people.
How did you find yourself at VBB?
I had been playing at other places, but then I was asked to be a sub at Volleyball Beach so that was my way in. I coach and referee and I started running tournaments where so many people started asking me to organize them so Howard and I struck a deal!
What's your favorite thing about VBB?
I think socializing with everyone. With the coaching and volleyball reffing that I do, it feels like all I do is hangout with teenagers! So it's the only time I get to play with other adults!
What is your favorite drink at Volleyball Beach?
I usually drink what ever Blake is drinking or Blake Shots. There is a drink called Blake's drink which is really good.
What are your hobbies outside of volleyball?
What's that? (she says with a laugh) I actually made one of the videos during quarantine playing volleyball indoors, which was fun.
Now that you have gotten to know Hillary a little better, be sure to say hi when you see her! Don't forget that DJ Lolly will be spinning the tunes and rocking the beach from 9-11pm! Reverse Happy Hour specials start at 9:15 with HALF PRICE food! A great way to try some of our new menu items!