Suns out, funs out! Host the best charity fundraiser ever for your organization with Volleyball Beach KC! We'll host your group volleyball get-together while you kick it in the sand and sun while raising money for your great cause. We provide the sandy beach courts and laid back vibe – and of course everyone's favorite Beach Bar and Grille is open for business with a wide selection of KC's best cocktails and delicious bar bites!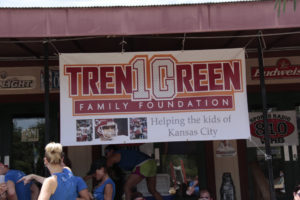 With 14 groomed sand volleyball courts, Volleyball Beach has plenty of space for just about any size crowd offering the most unique and authentic beach volleyball experience in Kansas City. The ball's in your court, be sure to check out Volleyball Beach KC when planning your next special event or fundraiser.
Check our calendar to see future charity events already booked and dates that remain available. In years past we've hosted events KC's most amazing charities including: Rose Brooks, Special Olympics, Susan G. Komen, Sherwood Center, and the Trent Green Family Foundation.
Wanting to stage an extra special work-day get-away? The Beach can host your company skip day most any Monday through Friday! Planning the not so traditional wedding gathering? Look no further than Volleyball Beach.
Don't let anyone "beach" you to it – book your event now! The facilities at Volleyball Beach are available weekdays and most Saturday and Sundays for spring and summer tournaments and other special events. Click here to send us a message to reserve your date!