LET'S HEAD TO THE  BEACH!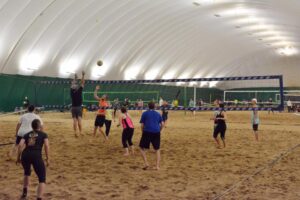 The sun is setting sooner these days and the temperature is steadily dropping. Winter is definitely making its way to Kansas City. If you are craving a little taste of summer to help tide you over during the colder months, then we have the perfect solution for you. Join a sand volleyball league here at Volleyball Beach in Martin City!
We set up our pressurized dome over eight of our volleyball courts so play can continue all year long. Inside our dome, we maintain the temperature at a pleasant 72°. You'll be protected from the rain, snow, and wind while you play, so don't pack away all your shorts and sandals yet!
A GREAT WAY TO EXERCISE
Besides getting a respite from the chilly weather, sand volleyball is a great way to stay in shape! Unlike typical volleyball courts, the sand gives you a little more resistance and helps strengthen those leg muscles. It also improves your hand-eye coordination and will help boost your energy levels over time.
GRAB YOUR FRIENDS
Joining a league with your friends means you all now have a reason to meet up each week and have a great time. You'll also have the opportunity to make new friends with other teams and work towards winning your own Championship Towel! Chat out on the sand or head inside the Beachside Bar and Grille to grab a drink and a bite. Volleyball Beach is made for friends to enjoy together. You and your crew will be looking forward to league night all week.
MARK YOUR CALENDARS!
Set a reminder on your phone because registration for our second winter league, Winter Digs II, opens up at 9 am on December 1st and these spots fill up super fast. You can find the sign-up slots on our League Sign Up page!
Play begins January 2nd and registration closes January 16th.
A few things to remember:
This league runs for 9 to 10 weeks. If holidays or poor weather conditions cancel one of your nights, we will do our best to reschedule it before the league ends.
We offer three different play levels, A – Power, B – Intermediate, and C – Recreational.
All players must be at least 18 years old.
If the status of the day and time you want is listed as FULL, call or email us to be added to the waitlist.
And if you don't have a team to play with or your team is short a player, head on over to our Find A Player page to start making player/team connections.
Leave the cold behind and come have a blast at Volleyball Beach!