Spring is just around the corner which can only mean one thing – Spring League at Volleyball Beach! Registration is open on our League Sign Up page! This 9-week session begins March 29th and runs through May 30th.
Remaining available league play times:
Sunday 8:00 PM
Sunday 9:00 PM
Monday 9:15 PM
Tuesday 9:15 PM
Wednesday 5:15 PM
Wednesday 9:15 PM
Thursday 9:15 PM
Friday 5:15 PM
Friday 8:15 PM
Friday 9:15 PM
End your evening by blowing off some steam, getting your exercise in and socializing with friends at Volleyball Beach! Our 9:15 players enjoy reverse happy hour specials that include $1 off all pitchers and cocktails + 1/2 off all food from 9:15 to 11pm. Plus, Starting April 1st, DJ Lolly will be playing on our deck at 9:15 on Wednesdays!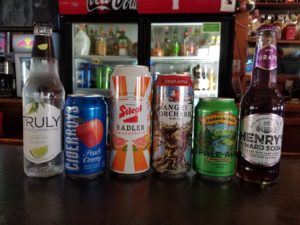 Or, start off your evening with our Hump Day Happy Hour League – Wednesdays at 5:15! At $120 per team with a $40 deposit, this ½ price league is the perfect opportunity to see all Volleyball Beach has to offer. The sun is shining, the drinks are refreshing, and the apps are half priced! You don't have to play in a league to enjoy our daily happy hour specials.  Our Happy Hour is from 4-6pm for those looking for eats, drinks, and sandy beaches and includes amazing deals on hand-crafted cocktails, margaritas, cold beers and delicious appetizers (each day's specials are a little different – ask your bartender for specials of the day!).
No matter your choice of refreshments once you're at the Beach, the first step is showing up! So, what are you waiting for? Your fun-time in the sun-time is just a few moments away! Grab a few friends – or make a few new ones – at the best and most unique beach this side of any coast! Escape the ordinary at the one and only, Volleyball Beach!
What are you waiting for? Sign up for one of the remaining open spots today! Don't have a team? Sign up for our new Free Agent league on Wednesdays at 9:15! Just $35 per person and Howard will find you a team!