Soak up the last few weeks of summer sunshine on the outdoor party deck at Volleyball Beach! Just a short drive to Martin City – Volleyball Beach is the inland beach getaway you've been looking for.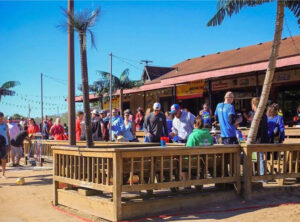 The Beachside Bar and Grill at Volleyball Beach is ready to serve up refreshing adult libations (margarita, anyone?) plus tasty appetizers, burgers, sandwiches and much more! Our quick and friendly waitstaff will come to you for your order, so your toes never have to leave the sand.
Don't see your waitress nearby? Simply text your food or drink order to us at (816) 892-2544 and we'll have your order out to you in a flash!
The happiest of happy hours begin at the Beach! Skip your average indoor restaurant Happy Hour and join us weekdays from 4:00 pm – 6:00 pm for amazing deals on hand-crafted cocktails, ice cold beers and delicious appetizers. Try our crowd favorite "Blake Juice" – a island explosion of Malibu Pineapple Rum, Malibu Banana Rum, pineapple juice, orange juice, cranberry juice and lemonade.
Looking for a night cap in the refreshing outdoor air? Join us for Reverse Happy Hour weeknights from 9:15 pm – Close and Sunday from 8:00 pm – Close. With $1 off all cocktails and pitchers plus ½ off all food, the end to your evening just became much better at Volleyball Beach!
What are you waiting for? Join the fun on the Volleyball Beach party deck today!