Why celebrate Happy Hour indoors when the country's best inland-beach beckons? Break the "chains" of everyday and mundane restaurant happy hours and celebrate the end of the workday in style – with sand between your toes and an ice-cold island-style beach beverage in hand? But where?
Look no further than the one and only Happy Hour at Volleyball Beach! It's the next best thing to booking a flight to an exotic beach-front bar, but much more convenient, less expensive and, if you squint your eyes just right, you'll swear the ocean is on the horizon. So, save a buck or two and a whole lot of travel with KC's own gateway to beach side bliss: Happy Hour at Volleyball Beach!
Our fully-stocked Beachside Bar not only has just about every adult libation you might imagine, you can also enjoy a wide selection of delicious bites – from pizza and nachos to chicken fingers and wings, there's plenty of tasty options to satisfy even the pickiest of palates.  And Monday through Friday from 4:00 to 6:00 not only can you enjoy our Happy Hour specials but also FREE open play sand volleyball!
Happy Hour specials include amazing deals on hand-crafted cocktails, margaritas, cold beers and delicious appetizers (each day's specials are a little different – ask your bartender for specials of the day!). We might suggest trying the crowd favorite, "Blake Juice" – a surefire island taste explosion, topped to the brim with Malibu pineapple rum, Malibu banana rum, pineapple juice, orange juice, cranberry juice and lemonade! Suh- weet!
And don't forget to try the enigmatic Volleyball Beach "Mystery Brew." Take the challenge and see if you can guess what the 20-year-old secret mystery brew is! (We'll never tell!)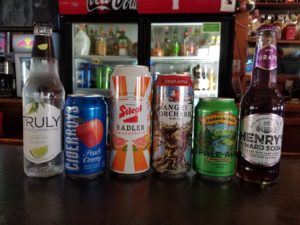 No matter your choice of refreshments once you're at the Beach, the first step is showing up! So, what are you waiting for? Your Happy Hour fun-time in the sun-time is just a few moments away! Grab a few friends – or make a few new ones – at the best and most unique Happy Hour this side of any coast! Escape the ordinary and make OUR happy hour YOUR happy hour – at the one and only, Volleyball Beach!