Don't miss Volleyball Beach's Fall League Registration!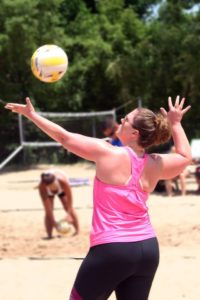 Sign-ups for the Fall League at Volleyball Beach open at 9 a.m. on Tuesday, July 19th, 2022. Play for the Fall League begins on Sunday, August 14th, 2022.
Before you and your team sign-up, if you are new to the Beach or haven't played in a few seasons, make sure to review the new skill level divisions. Volleyball Beach added a new league this year, changing the OG Level A into Level BB – Upper-Intermediate! Level A now is exclusively reserved for power hitters looking for a more competitive experience!
Are you still looking for a team to join or is your team a player or two short? Just head over to the Find a Player page! This is the best place to connect with other teams and players. Start making connections today so that you can be ready to play on the first day of the Fall League!
Treat yourself this fall to cool evenings out on the sand courts at Volleyball Beach. Simultaneously enjoy beautiful sunsets, time with your friends, and great food and drinks from the Beachside Bar & Grill! A weeknight break is best spent at the Beach!
Mark those calendars so you don't miss your chance to sign-up! We can't wait to see you at Volleyball Beach!